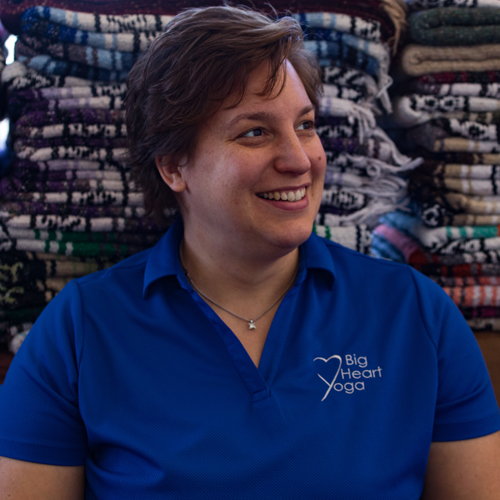 Kerianne Sidoti, E-RYT500, YACEP
Owner
Big Heart Yoga LLC
I believe that everyone can benefit from yoga, but having the open mind to try something new often takes more time, and guts, than we think. After thinking about trying yoga for many years, a stressful job brought me to a mat for the first time. Since then I have learned that the physical aspect of yoga is just the tip of the iceberg. I've been able to skip my doctor recommended orthotics. I no longer "throw my back out". I no longer "ache". I've learned to actually use my core and I've improved my posture. My entire life is better, I'm healthier, I'm happier, I'm leaner and I feel amazing.
Yoga shouldn't be scary. I often struggle with asanas (poses), there are many that I love, there are many that I don't, there are many that have changed drastically for me over the years of my practice. The most common things I hear for reasons that people don't try yoga are "I'll try that when I lose weight" or "I'm not flexible enough". The only obstacle in your path is you! I've learned a few things about which asanas are beneficial to me as a larger woman…and which ones are just plain frustrating and don't serve me well. I like to share what I've learned about individual asanas, modifications and the power of breath.
I've learned….
To honor my body
To embrace mindfulness
Strength
How to relax
How to move
How to breathe
How to observe
How to listen
That crazy looking poses are just that
That a minor adjustment or breath adaptation can completely change the difficulty of a pose
Some things can be extremely hard, and more than worth their efforts
In 2013, I began studying with Certified Viniyoga Therapist, Dawn Miller, C-IAYT, E-RYT500, YACEP. In 2017, I completed my 200 Hour Yoga Teacher Training at Sewall House Yoga Retreat in Island Falls, Maine with Donna (Amrita) Davidge, E-RYT500. In 2019, I completed the 20 hour Pelvic Floor Yoga™ teacher training with Leslie Howard. In 2022, I completed my 300 Hour Advanced Yoga Teacher Training at Heartwood Yoga Institute & Retreat Center in Bradenton, Florida. In 2023, I began studying with Yogi Aaron and focusing on AYAMA™ (Applied Yoga Anatomy and Muscle Activation). This style of yoga focuses on creating stability and mobility in the body by rejuvenating our largest muscles to support us in all the best ways.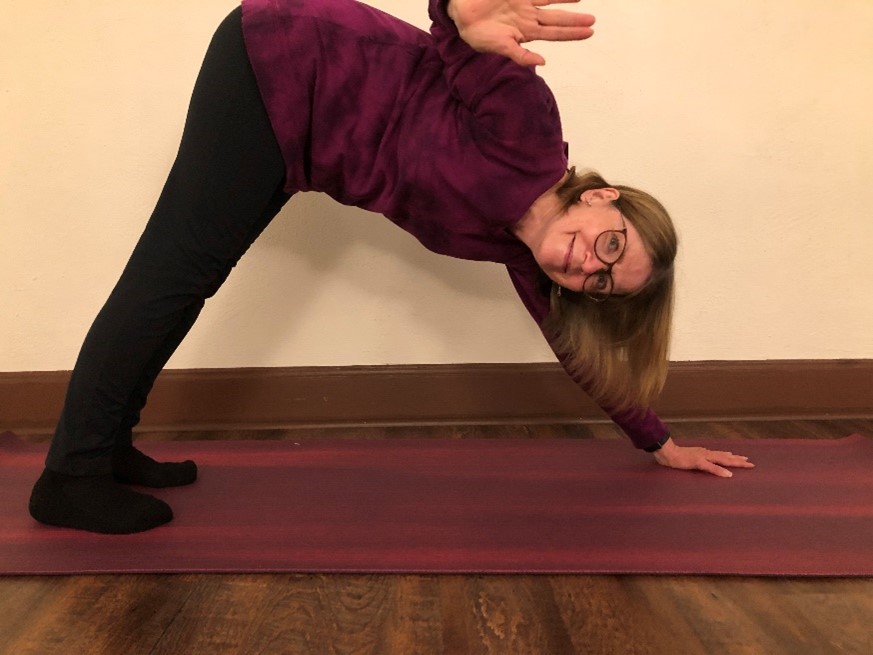 Sandy Ammon, RYT200
I began practicing yoga in my 50's, and can't believe the difference it has made in my life. Besides feeling physically stronger and more flexible, I am definitely calmer. I have been learning to live from a place of gratefulness and contentment, and to take a deep breath and respond to life's challenges, instead of reacting. Because of this, I believe that it is never too late to begin a yoga practice! Yoga is for every – body. Eventually, I began to realize that I wanted to deepen my yoga practice, and took the Yoga Teacher Training (RYT 200 hour) offered by Deb Bunnell at Agni Studio. It was a wonderful experience, and helped me get through the pandemic in 2020. I was fortunate to have Kerianne Sidoti as a mentor and guide as well. Besides being a yoga teacher, I am a recently retired Cleveland Chemistry teacher, and former Clinical Chemist. I am a Karuna Reiki Master, and live in Euclid with my husband Rick, and a bunch of fish.