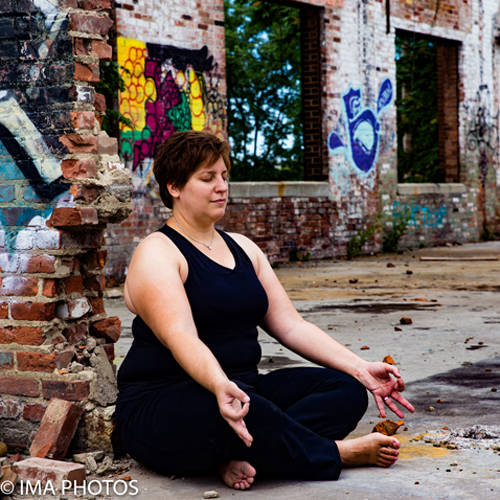 Kerianne Sidoti, RYT
Owner
OneTree Yoga / Big Heart Yoga LLC
I believe that everyone can benefit from yoga, but having the open mind to try something new often takes more time, and guts, than we think.  After thinking about trying yoga for many years, a stressful job brought me to a mat for the first time.  Since then I have learned that the physical aspect of yoga is just the tip of the iceberg.  I've been able to skip my doctor recommended orthotics. I no longer "throw my back out". I no longer "ache". I've learned to actually use my core and I've improved my posture. My entire life is better, I'm healthier, I'm happier, I'm leaner and I feel amazing.
Yoga shouldn't be scary. I often struggle with asanas (poses), there are many that I love, there are many that I don't, there are many that have changed drastically for me over the years of my practice.  The most common things I hear for reasons that people don't try yoga are "I'll try that when I lose weight" or "I'm not flexible enough".  The only obstacle in your path is you! I've learned a few things about which asanas are beneficial to me as a larger woman...and which ones are just plain frustrating and don't serve me well.  I like to share what I've learned about individual asanas, modifications and the power of breath.
I've learned….
To honor my body
To embrace mindfulness
Strength
How to relax
How to move
How to breathe
How to observe
How to listen
That crazy looking poses are just that
That a minor adjustment or breath adaptation can completely change the difficulty of a pose
Some things can be extremely hard, and more than worth their efforts
My classes are open and informal and focus on breath centered movement, safe and healthy alignment, mindfulness and letting go.  I enjoy teaching classes in several different styles, including Yin, Restorative and a Viniyoga inspired class I like to call "Yoga Foundations".
I began studying with Certified Viniyoga Therapist, Dawn Miller, C-IAYT in 2013.  In the summer of 2017, I completed my 200 Hour Yoga Alliance Teacher Training at Sewall House Yoga Retreat in Island Falls, Maine with Donna (Amrita) Davidge (500 Hr E-RYT).  Donna shared her very diverse knowledge from teaching yoga in New York City and northern Maine for over 30 years, learning from many teachers, including Yogi Bhajan, Dharma Mittra, Eddie Stern, Genny Kapuler and Judith Lasater.
Cathy Picozzi, E-RYT
I am an E-RYT 200, Reiki Master and a Certified Health Coach.  Accepting that my resume did not define who I am as a person was difficult, after all, it took my lifetime to create that story. It is that very story that brought with it many benefits but there was also a downside. I was drained, unsatisfied and felt lost. Illness and fate led me down a path that changed my life.  Over time I learned to accept and take responsibility in my healing. It is that healing experience that led me to teach Yoga and to become a Health Coach. There is so much reward in evaluating what is nurturing you and your life. Food and lifestyle create your health; it is worth the effort to create the healthiest way of living.  I am excited to share my love and appreciation of the healing practice of Yoga. Yoga transformed my life, actually, it liberated me from my old ways of thinking and being! With every practice I learn more about who I am and what ultimately makes me happy. Quieting the mind, allowing my breath to guide my body to release tensions, fears and anxiety, I am creating a body I can live within comfortably. Being part of this OneTree/Big Heart Yoga community has been such a blessing to my practice, my journey and my life. 
Jen Young
I am a certified Vinyasa yoga teacher through Awaken Yoga.  I design classes with thoughtful sequencing and mindful intention. My focus is on the beginner's mind to allow any level of practitioner to find connection and healing though Vinyasa.  I specializes in Astrology, the phases of the Moon and the Chakras.
Ali Piotrkowski
I am a 200 hour certified Therapeutic Hatha yoga instructor.  I completed my training in June of 2016 and since then have been teaching various places around Cleveland's Eastside. I was even fortunate enough to land a beach club yoga class in the summer time. The class was designed so students could practice yoga while taking in the beautiful view of Lake Erie. I have also taught at the Willowick community center. I am excited to be joining the One TreeYoga Staff on Saturdays as well as substituting for teachers who may be out. While working full time for PNC Bank I make yoga and the practice of yoga a priority. I hope students who share their practice with me find peace of mind, clarity of their thoughts, and the will to continue to be the best person they can be. Namaste!
Christine McIntosh, RYT
I am a Euclid resident, a City of Euclid Councilwoman and a 200 hour registered yoga teacher through Yoga Alliance. I am inspired by yoga philosophy, energy work, our collective consciousness and how humankind connects to nature and self. Uniting breath and movement, I lead an integrative, all levels yoga practice that combines meditation, breathwork and asana to open energy pathways leaving one steady and eased.
Katie Ely
I found my twin loves of dance and yoga while growing up in Michigan. My first time practicing yoga was from reading a hatha yoga book from the library, and I was hooked.  Following those two passions, I received my Bachelors in Dance from Western Michigan University and 200 hour yoga certification with Yoga to the People NYC. My  time in New York afforded me the opportunity to study a plethora of yoga styles and sample diverse teaching techniques.  Coming back to the Midwest, I've decided to refocus on teaching. My style of yoga is informed by my dance background, every pose and breath flowing in and out of each other. I've found that the more people I am allowed to teach, the more I learn about my own practice. I am happy and grateful to be a part of the Big Heart Yoga family.
Sue Kamensky
I am a 300 hour Certified Yoga Instructor and received my training through Awaken Yoga, a registered Yoga Alliance School.  I have been teaching various forms of yoga in the community since 2009. My education and teachings include the history of yoga, the chakra system, Sanskrit, meditation and relaxation techniques, anatomy and the therapeutic and healing aspects of Yoga.  My focus and passion is on the traditional teachings of Hatha and Vinyasa Yoga.  I have found Yoga to bring many joys in my life, such as peace, balance and confidence of the mind, body and spirit.  I have a passion to inspire and pass these benefits onto students.  "When you guide someone through a yoga class and they appreciate and accept it, both the teacher and the student will feel the true depth of this amazing practice."  Peace and Namaste.