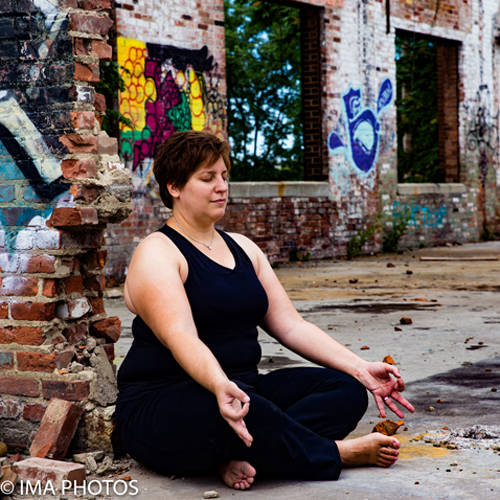 Kerianne Sidoti, RYT - Big Heart Yoga LLC Owner
I believe that everyone can benefit from yoga, but having the open mind to try something new often takes more time, and guts, than we think.  After thinking about trying yoga for many years, a stressful job brought me to a mat for the first time.  Since then I have learned that the physical aspect of yoga is just the tip of the iceberg.  I've been able to skip my doctor recommended orthotics. I no longer "throw my back out". I no longer "ache". I've learned to actually use my core and I've improved my posture. My entire life is better, I'm healthier, I'm happier, I'm leaner and I feel amazing.
Yoga shouldn't be scary. I often struggle with asanas (poses), there are many that I love, there are many that I don't, there are many that have changed drastically for me over the years of my practice.  The most common things I hear for reasons that people don't try yoga are "I'll try that when I lose weight" or "I'm not flexible enough".  The only obstacle in your path is you! I've learned a few things about which asanas are beneficial to me as a larger woman...and which ones are just plain frustrating and don't serve me well.  I like to share what I've learned about individual asanas, modifications and the power of breath.
I've learned….
To honor my body
To embrace mindfulness
Strength
How to relax
How to move
How to breathe
How to observe
How to listen
That crazy looking poses are just that
That a minor adjustment or breath adaptation can completely change the difficulty of a pose
Some things can be extremely hard, and more than worth their efforts
My classes are open and informal and focus on breath centered movement, safe and healthy alignment, mindfulness and letting go.  I enjoy teaching classes in several different styles, including Yin, Restorative and a Viniyoga inspired class I like to call "Inside Out Yoga".
I began studying with Certified Viniyoga Therapist, Dawn Miller, C-IAYT in 2013.  In the summer of 2017, I completed my 200 Hour Yoga Alliance Teacher Training at Sewall House Yoga Retreat in Island Falls, Maine with Donna (Amrita) Davidge (500 Hr E-RYT).  Donna shared her very diverse knowledge from teaching yoga in New York City and northern Maine for over 30 years, learning from many teachers, including Yogi Bhajan, Dharma Mittra, Eddie Stern, Genny Kapuler and Judith Lasater.